American Standard Gold S9V2-VS Gas Furnace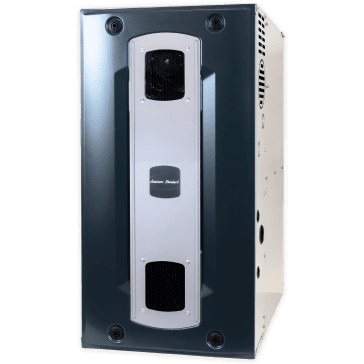 Our Quietest Furnace
High quality and high efficiency mean a high standard of comfort for your home.
2-stage heating
Up to 97% AFUE
Gold S9V2-VS Gas Furnace Highlights
Industry-changing cabinet is designed to accommodate virtually any home
New design is certified to be airtight to less than 1%
Variable speed draft inducer provides comfort and maximum efficiency with very little sound helping ensure quiet performance for your home.
The Gold S9V2-VS furnace is rated at 97% gas efficiency (AFUE)
The Vortica™ II blower is one of the most efficient in the industry, providing savings in both winter and summer
Stainless steel primary and secondary heat exchangers, and new Vortica™ II blower combine to provide a consistent flow of warm and comfortable air
Equipped with our proprietary Comfort-R™ enhanced dehumidification mode that helps reduce the humidity in your home.
Combine with the American Standard AccuClean™ Air Cleaner for a cleaner, healthier, and more comfortable home
Match your gas furnace with a heat pump to enjoy the energy-saving benefits of a hybrid system. In milder temperatures, your heat pump acts as the primary source of heat for your home. When the weather gets too cold, your system activates your furnace to deliver the heat you need.